Home

/

Wheels

/

Qurano 46 Disc Carbon Clincher Set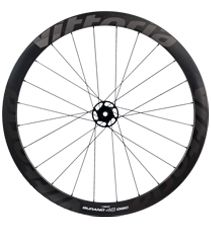 Qurano 46 Disc Carbon Clincher Set
Stock Code:
1W1GA22222016AM
Price:
$3,250.00 incl GST
Description
The versatile Full Carbon Clincher Disc wheel for climbing, gravel or just having fun. It has 30mm high and 25mm wide asymmetric rims front and rear with 24 double crossed Aero spokes. The new Vittoria Road Disc hubs with SwitchIT 2 freewheel system and 12/100mm front through axle, Centerlock® (convertible to 6-bolt) disc mount are compatible with SRAM, Campagnolo or Shimano cassette, just as you like.

- Front & Rear Wheel Set
- Disc-brake equipped Graphene-enhanced full carbon road wheel for pro-level performance.
- Asymmetric rim profile to better support the disc brake presence.
- Aerodynamic spokes for increased speed.
- Wheelset includes wheel-bag, valve extenders and foldable tool.